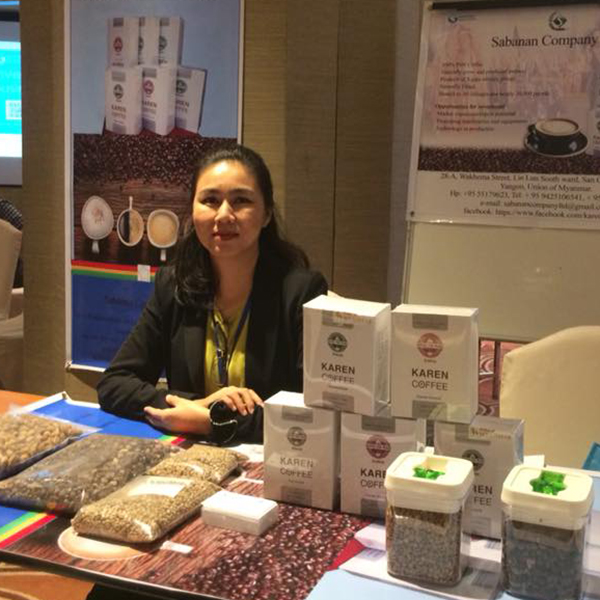 In this week, we are going to make the Interview with Ma Khin Ohmmar Moe who is the Managing Director of Sabanan Co.,Ltd.
1. We would like to begin the interview with some biographical information. Can you please let me know about yourself ?
I am Managing Director of Sabanan Co., Ltd.We sell Karen coffee from Than Daung Gyi, Karen state.My first degree is B.Sc. (Botany) from Distance University, Yangon.In 2012 I studied MBA from Assumption University,Thailand and in 2015 Executive Master in Development Policy and Practice (DPP) from Graduate Institute of Geneva under Switzerland government scholarship.
2. When did you become the Managing Director of Sabanan Co.,Ltd and How did you start it ?
After my 2nd child was born, I resigned from Oxfam INGO to spend more time for childcare and my household management. To make income as before, I started registration in 2010 for Sabanan Company as local trading and garment business. But this garment business was stopped by Fire at Mingalar market in 2011. Therefore, I went back to NGO to promote SMEs and gender equality in economic empowerment. Karen coffee was introduced in early 2017 to help the women group in Than Daung Gyi, Karen state.
3. What are the main products of your company/business ?
All my products are made in Myanmar.
Robusta Fine ground coffee
Robusta Coarse ground coffee
Arabica Coarse ground coffee
Robusta roasted bean
Robusta green bean
4. Do you have factory or workshop by your own in Myanmar ?
I don't have own farm. I bought from coffee farmers, and local traders in Than daung and Taungoo. They help me roasted and grind ed locally and send to Yangon by bus. I make packing only at my house in San Chaung township, Yangon with 4-5 workers. Enable to manage the quality and taste more stable, I am now extending my production with some machinery; automatic packaging and roaster.
5. What are the main challenges you face as a Myanmar manufacturers ?
The main challenge is high turnover rate with workers. second is the requirements by local markets; new listing fees at chain stores, bar codes, FDA certificate, Tax, high delivery cost, high marketing costs, etc. 3rd is space for local small producers; we cannot rent the buildings at Industrial zone.
6. Are you exporting to other countries ?
I am trying very hardly to find the export markets for Coffee and Cardamon seeds from Than Daung area. It is because I believe that I cannot help the local farmers effectively without any export process.
7. Do you have oversea Exports, Imports, Oversea Buyers and Trade Partners ?
Not yet. But I received some inquiry from some countries. therefore, I believe that I will be able to export a few amounts in 2018 and more later.
8. Do you want to say anything to our MadeInMyanmar.asia Web Portal ?
I visit this portal very frequently to learn about new local products and read their interviews. it is very impressive to see all local products in one web page. There are many web pages in Myanmar but this web is very unique and I feel very proud with this portal to promote local products to markets. Therefore, I would like to suggest one thing as sometime I want to click more and visit to their direct webpage or contact with them to find more information. It will be more useful for visitors by direct linking to their own websites, or access to send email directly to them or e-commerce platform on this portal.