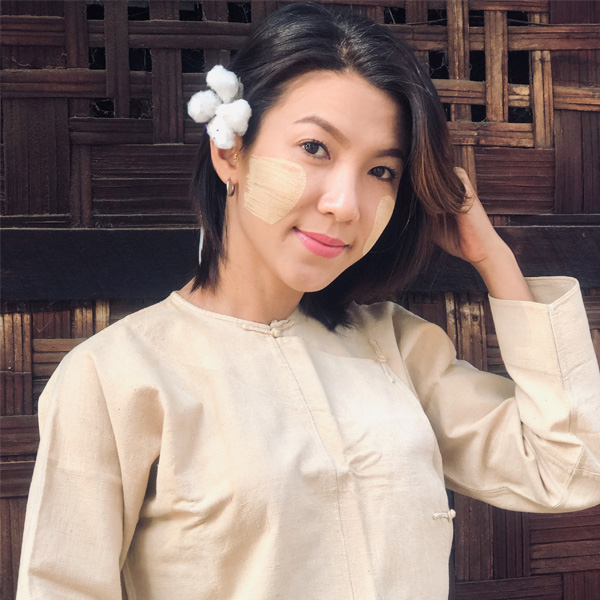 In this week, we are going to make the Interview with Ma Thiri Winn Maung who is the Founder of Mori Burma.
1. We would like to begin the interview with some biographical information. Can you please let me know about yourself ?
I'm Thiri Winn Maung and founder from Mori Burma.I'm 30 years old.I was graduated computer university.I was certificated deal with natural dyeing cotton and silk from Saungda weaving training of cottage Industries in Amarapura Township .
2.When did you become the Founder of MORI Burma and How did you start it ?
Hand-loom and hand-spinning workshop have around in my native town.So I'm always wear hand-loom pure cotton fabric that made with hand-spinning cotton.And then I got idea to made local products with organic hand-loom and hang-Spinning cotton in2017.So I did start to produce organic hand-spinning cotton made with natural dye.
3.What are the main products of your company/business ?
The main products are
(a)Organic Cotton & Natural Dye fabric
(b)Rusty Dye (Eco Dye) fabric
(c)Embroidery Design clothes
(d)Mud Cloth Design (made with hand painting on organic cotton fabric)
4.Do you have factory or workshop by your own in Myanmar ?
Yes,I do have small factory in my native town(Budalin,Sagaing Burma).The employees are 20-25.All of my products are handmade.
5.What are the main challenges you face as a Myanmar manufacturers ?
Challenges are;
(a)lack of technology
(b)scarce of raw for natural dyeing
(c)cotton market is not good so farmers are not grow cotton trees.
6.Are you exporting to other countries?
Currently,we are not export yet but we arrange to export after preparing things.We will export world wide.
7.Do you want to say anything to our MadeInMyanmar.asia Web Portal ?
That website is very good for our local products .I wish to get more success and more support to local products. Thank you so much.