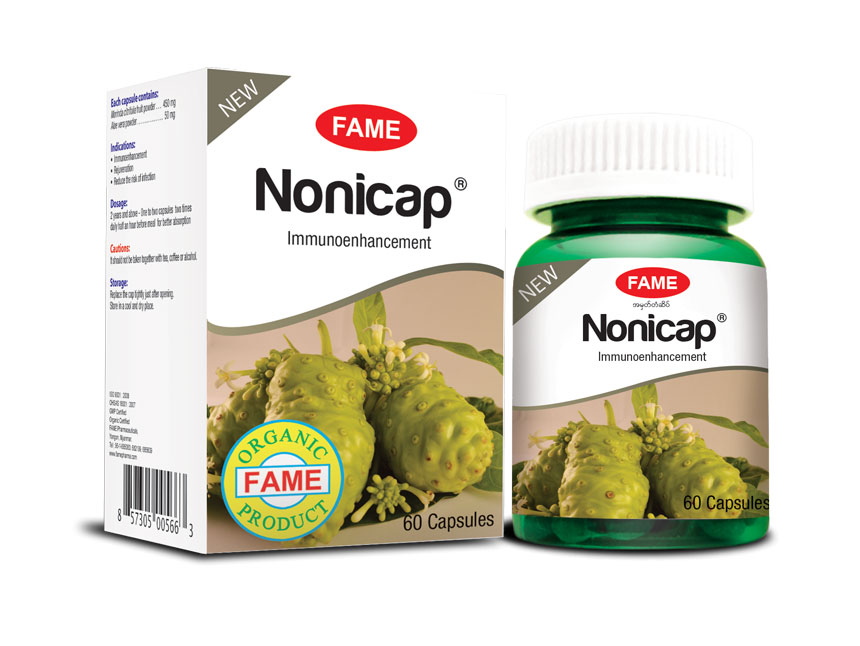 Pharmacological actions:
♦ Anti-stress and anti-depressant effect
♦ Anti-cancer effect
♦ Analgesic effect
♦ Anti-secretory effect on respiratory tract
♦ Immunomodulating effect
♦ Anti-platelet effect
The main active principle of Noni fruit is proxeronine which is converted into xeronine by proxeronase enzyme in the body.
Supplement Facts
Composition :
Each capsule contains
Morinda citrifolia fruit powder …………… 450 mg
Aloe verapowder …………….…………… 50 mg
Directions To Use
Indications :
♦ Immunoenhancement
♦ Reduce the risk of infection
♦ For rejuvenation
Dosage : 2 years and above–one to two capsules two times daily half an hour before meal for better absorption
Contraindication : Nonicap® is a rich source of potassium and therefore it should not be used in case of renal insufficiency because of risk of hyperkalemia.
Caution : Nonicap® should not be taken together with tea, coffee or alcohol, all of which can destroy the proxeronine. It has antiplatelet action and therefore Nonicap® should be omitted 2 weeks before any surgical procedure including dental extraction.
Side effects : Bleaching, skin rashes, bleeding manifestation
Storage : Replace the cap tightly just after opening. Store in a cool and dry place.
Quantity supplied : 60 capsules per bottle